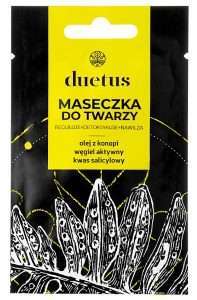 Efekt: oczyszczenie porów, zapobieganie wypryskom, regulacja wydzielania sebum
Forma: gęsty krem
Zapach: ziołowy
Kolor: ciemny szary, może brudzić
Typ cery: trądzikowa, tłusta (również nastoletnia)
Sposób stosowania: nałożyć na 5-10 minut (nie pozwalamy aby zaschła, można psikać hydrolatem lub wodą)
Ważna cecha: jest jak restart dla skóry! Świetnie oczyszcza

Moja opinia: Jedna z moich ulubionych maseczek oczyszczających <3 Ma świetny wpływ na zaskórniki – zapobiega powstawaniu wyprysków i sprawia, że pory od razu stają się czystsze. Gdyby była dostępna w tubce, to na pewno włączyłabym ją do pielęgnacji na stałe, bo to świetne wsparcie dla trądzikowej cery. Niestety nie jest jakoś szczególnie tania, więc staram się robić zapasy podczas promocji.

Wyróżnione składniki:
Oczyszczająca zielona glinka / bogaty w kwas linolowy olej z pestek winogron / regulujący olej konopny / oczyszczający węgiel aktywny / kwas salicylowy, który "rozpuszcza łój".

Skład INCI: Aqua, Vitis Vinifera Seed Oil, Kaolin, Sorbitol, Cannabis Sativa (Hemp) Seed Oil, Sorbitan Stearate, Sucrose Cocoate, Glyceryl Stearate, Activated Charcoal, Squalane, Tocopheryl Acetate, Glycyrrhiza Glabra Root Extract, Stearic Acid, Cetearyl Alcohol, Salicylic Acid, Xanthan Gum, Thymus Vulgaris (Thyme) Oil, Citrus Grandis Oil, Benzyl Alcohol, Dehydroacetic Acid, Limonene, Linalool.